The most natural thing that should happen automatically
The last step in a translator's work process is successfully getting paid.
It simply means:
without having to check up on your payment.
Since you did your part and sent your hard-worked file to the client before the deadline, getting paid on time should be the most natural thing to happen. It should be nothing special, nothing you should be grateful for. And only when you get paid on time, you can manage your finance on your end and focus on your real work – translation.
Painful experience of chasing after payments
Unfortunately, so many translators have to chase after payments.
What that means is, they have to do the following:
organize their payment record
compare their sent invoices with the payment record,
write an email to someone in the agency (often not the PM) or call the agency and
leave messages on the agency's voice messaging system (often they don't pick up the phone when you call), hoping to get a return call.
This is by no means an easy task when you have at least several clients and a few different payment methods (Paypal, checks, etc.).
When the agency does not immediately respond with an apology for their one-time mistake and prompt payment, this is a really frustrating, upsetting, time-consuming and energy-draining experience, so you cannot concentrate on your essential tasks.
[bctt tweet="Chasing after payment is frustrating, upsetting, time-consuming and energy-draining." username="HappyKoreas"]
No wonder this is number one complaint of translators. You never want to repeat that process again.
Check the Blue Board to prevent future hassles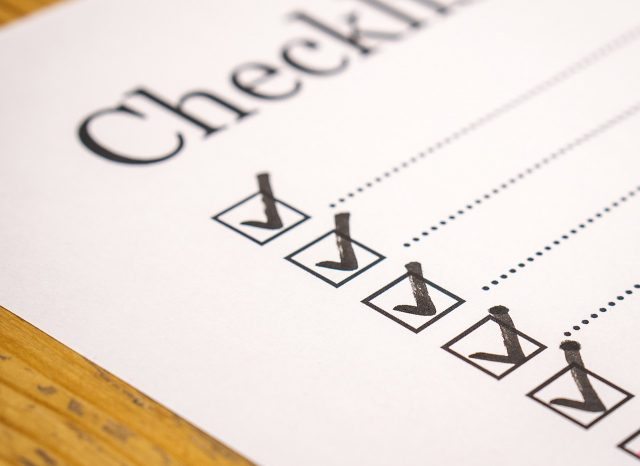 For those who may have not read my previous posts, the Blue Board is a system for evaluating agencies at ProZ.com.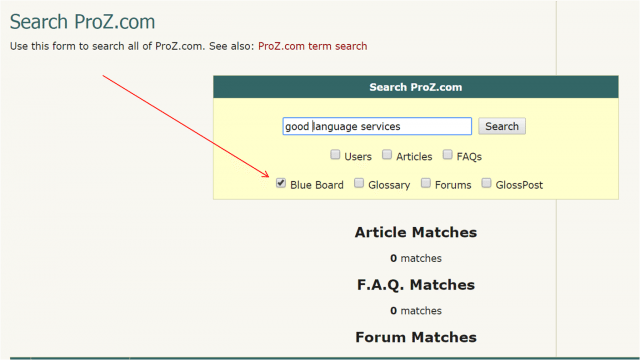 When checking the Blue Board, the first thing you need to examine is the scores (overall and past 12 months).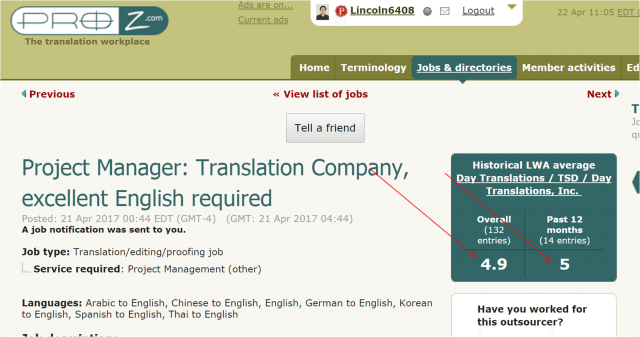 Make sure to check the following as well:
number of entries and history of entries (couple of recent good ratings do not guarantee anything)
any sign of entry manipulation by the translation agency (a concentrated entries during a short period of time to boost a bad previous score is a really bad sign)
the country/region of the agency (translation agencies in low-end market sometimes maintain good ratings but it will be difficult for translators to work with these agencies if they live in countries with a high cost of living.)
What you can do if you are already in trouble
A translator may discover the ugly truth about a particular agency too late in the process, but she can still make the experience meaningful by leaving reviews on the Blue Board for others to see. It's in the best interests of the next translator who comes across this agency on the board to seriously consider your feedback.
In fact, upset and frustrated translators leave negative reviews on the Blue Board. You will often come across comments on the Blue Board that go something like this:
Everything went smoothly from the initial contact until the translation was complete and the invoice sent, but I did not receive payment at the agreed upon time. When I followed up with the agency, their reply was slow, and they gave me all sorts of excuses for why the payment was late.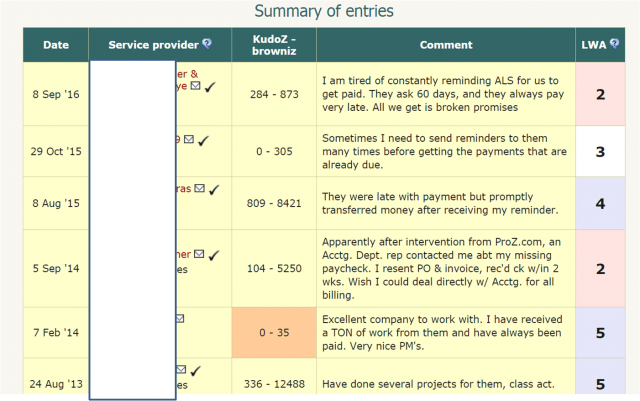 When the agency sees negative feedback, their attitude may completely (and often immediately) change. They often pay the translator right after the negative feedback as you can see in the above screenshot. That is because most agencies know the importance of the Blue Board. Low scores on Blue Board can make it very difficult for them to work with good translators in the future.
After the payment is made, the agency will invariably request that you take down the negative feedback and score. When you receive such a request, either decline it, or at least leave the reason why you left a bad score initially and why you changed your score later. That way, other translators will benefit from your entry. Ultimately, it will contribute to improve the online translation market to become a better and safer environment for freelance translators.
Conclusion
Do not be swayed by a PM's kind words, appealing promises, or exaggerated representations of their agencies. We can tell which agencies operate with a long-term goal, market themselves properly, and value relationships with translators by checking out the Blue Board.
The Blue Board is a tool that can detect bad agencies and drive them out of the market. It can also help translators avoid wasting their precious time and energy.
[bctt tweet="The Blue Board is a tool that can detect bad agencies and drive them out of the market." username=""]
Never forget to check out the Blue Board before accepting work from a new agency.